" Make a pact with yourself today to not to be defined by your past. Sometimes the greatest thing to come out of all your hard work is not what you get for it, but what you become for it. Shake things up today. Be you ….Be free …. Share".
Steve Maraboli
St. Joseph's Convent School is synonymous with quality and has a legacy of efficiency. " Some people dream of success while others wake up and work hard at it". The hard work of the school has yielded rich dividends. It has emerged a proud winner because of its constant perseverance. The school has been incessantly striving to achieve and maintain excellence in academic and character building proving its motto "Love and serve".
"If you want to change the world, pick up your pen" said Martin Luther King. We, at St. Joseph's Convent School infuse the students with the spirit of bringing about essential transformation in self and society.
Setting goals and working towards those goals strengthens our faith. Our high ideals are witnessed in our emerging practices. The institution trains and hones the talents of every student and motivates them to be a part of the progressive society. Equal emphasis is given to extra-curricular activities especially sports.
The teaching and non-teaching staff has tried to enhance and maintain quality education that makes us competitive at the global level. I must take this opportunity to congratulate each and every stake holders for being a part of this journey and travelling together to a land myriad possibilities believing in themselves with conviction and working with commitment. I would like to quote the words of Abraham Lincoln as message to all Josephites. " Always bear in mind that your own resolution to succeed is important than any one thing".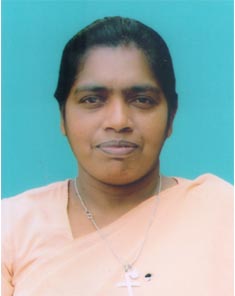 Sr. Mariam Varghese
Principal